---
What to know about our posters with premium quality
For our posters we use premium-quality poster paper, which was specially developed for the digital printing process we use in our own print house. To ensure that you can enjoy your new favourite poster for a long time, we use certified inks that are solvent-free and UV-resistant and impress with their brilliant and lasting colour fastness. On the silk-glossy surface the vibrant colours of our designs are particularly beautiful and come into their own. Our high-quality printing materials and a colour application with a raised effect give our posters gallery quality.
With us you will find your new favourite posters! Choose between colourful or black and white designs. Do you prefer mini-prints or large posters? With or without a frame? Pick the posters that suit you and your home best!
From Monet to Klimt: art prints as stylish accents
In our shop you will find numerous designs by old masters and other famous artists, who are among the most famous in the world. Whether da Vinci's 'Mona Lisa', Monet's 'Water Lilies' or van Gogh's 'Sunflowers' – our high-quality poster prints are an affordable alternative, with which you can bring the artworks of your favourite artist into your home.
With our high-quality paper and digital printing technology, we can reproduce the works of history's most prominent artists as posters for you. You want to add stylish accents to your home? Then choose your favourite work of art and take it home as a framed art print. In our frame manufacture, we will build your chosen frame to fit your poster perfectly.
Popular interior design styles
Our posters are particularly suitable for a children's room because you can attach them quickly without much effort. With coloured pins, adhesive strips or colourful tape, you can easily attach the posters to walls and other flat surfaces. If your child no longer likes the designs, you can easily remove them and replace them with his or her new favourites. This is especially practical because of course, your child's hobbies, interests and dreams will develop and change with them. Browse through our designs and order your kids' new favourites posters!
Are you looking for beautiful designs suitable for children and would like to try a different material? As an alternative to our posters we recommend also our foam board prints for the children's bedroom. They are light, stable and wipeable, making them ideal for children's hands! With their slightly shiny surface, our foam board prints are also a real eye-catcher in every child's room.
Simply place the poster on the wall and stick it in place – you can make your walls more beautiful very quickly!
Lisa – Posterlounge Team
Framed posters – elegant and high-quality
You can also order framed posters with us, because as easy and quick posters can be put on the wall without drilling: some posters are given extra character in a frame. Framed posters are an eye-catcher because the frame gives the design a special depth. Bring the gallery feeling into your home and choose the art print of your choice with one of our high-quality solid wood or aluminium frames.
After you have chosen your favourite design as a poster you can choose a frame. After printing, we frame your poster in our in-house frame manufacture. We place your poster print in the frame, which you can choose in different colours to match your interior. High quality is important to us, which is why we use picture frame mouldings made of first-class solid wood and aluminium. The front is made of shatterproof, anti-reflective acrylic glass. Order our framed art prints, that perfectly suit you and your personal gallery!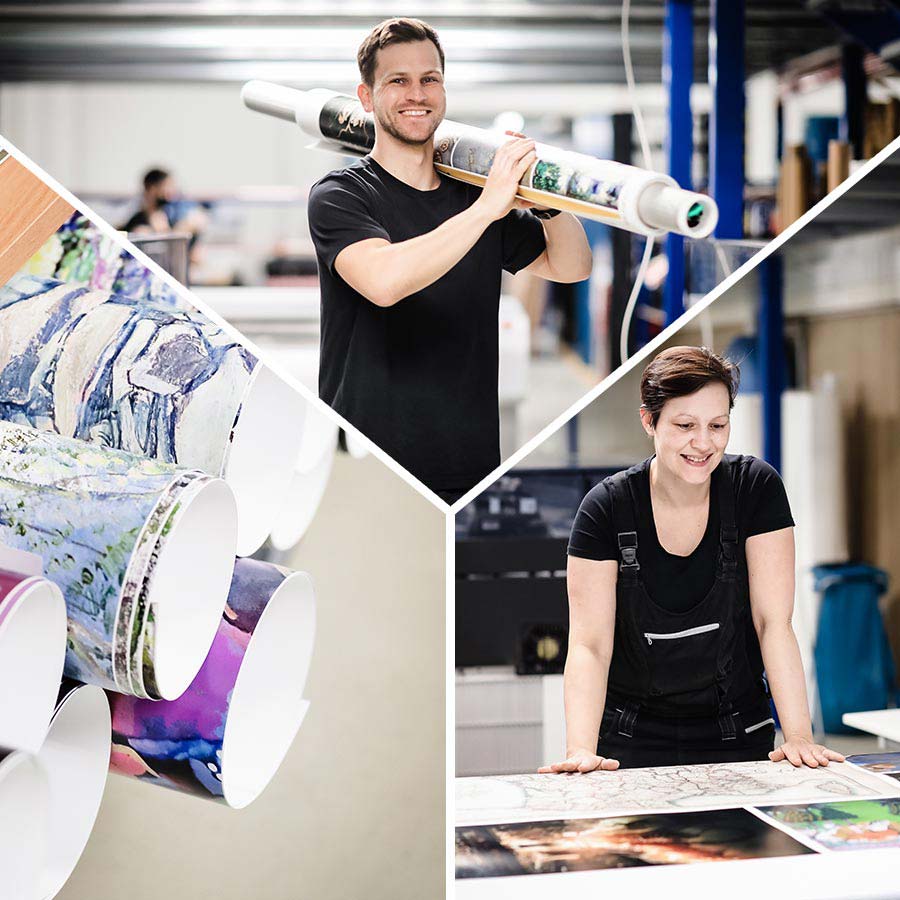 Posterlove by Posterlounge
We love art – and that's why we have high standards for the quality of our posters and wall art. With our own art print house, we succeed in meeting our demands day after day. Here we rely on high quality materials and resource-saving print on demand. With our handmade frames, we can add the finishing touches to your posters if you wish – so your favourite print is ready to be delivered to your home within a few days.
Are you looking for something in particular?
Frequently asked questions about posters
Frequently asked questions about posters
What is a poster?
Advantages
Material
Border
Custom border
Size options
Non-listed formats
Mounting
Frame
Frame front
Frame mounting
Mounting location
Packaging
Delivery time
Indication of copyright and artist
Durability
Wall design
Frame size
Ripples in the poster